Breastcare : New Packaging for both ranges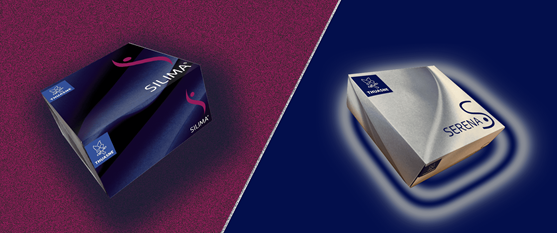 The new packaging for Silima® and Serena®, for breast forms and associated lingerie, has been redesigned to better differentiate the products and confirm their positioning on retailers' shelves.
The Silima® packaging is now dark blue, a colour synonymous with premium products at Thuasne, highlighted by a touch of magenta. The folded base symbolises wellbeing, comfort and care. The Silima® symbol found on the box evokes harmony and femininity.
Serena® adopts a light blue colour, indicating an entry-level product, along with grey and white. The folded base symbolising well-being, natural comfort and confidence is also applied. Finally, the colour label, indicating the specific product features (for example, whether it is adhesive), deemed unnecessary on national and international markets, will disappear next spring. The new product packaging has been available since October.