Managing daily life with osteoarthritis of the knee
It can be difficult to live with osteoarthritis of the knee - also known as gonarthrosis - but it is possible to preserve your quality of life by making a few everyday adjustments. Below is some practical advice to help you carry out routine tasks, such as housework, cooking, DIY or gardening.
Good medical care, taking your prescriptions as instructed and appropriate physical exercise are all essential to help you live more comfortably with OA of the knee. But these measures are not enough! To help prevent pain and injury in your everyday life, there are a variety of tricks, techniques and adjustments...
Osteoarthritis of the knee causes mechanical (movement-related) pain, which flares up from time to time. Outside these episodic flare-ups, it is necessary to keep physically active. By strengthening your muscles and regularly mobilising your knee joints, you can help stop your osteoarthritis getting worse. Daily walking or swimming are ideal activities. Running or ball, racket or combat sports should be avoided because they can cause micro-injuries to the cartilage. Your doctor will be able to advise you on a suitable programme tailored to your pain and your abilities.

During painful flare-ups, it is also important to look after your knees: avoid prolonged standing and walking for long periods of time, or heavy lifting. In the event of pain, it can be helpful to lie down and rest regularly(1).
 
Adapting your home or interior
Adapted and well-organised furnishings make it possible to move around and perform activities with maximum comfort and safety. Carefully planning in advance where to put certain items can also help avoid numerous everyday difficulties. In the kitchen, for example, frequently used ingredients and utensils should be placed within arm's reach, and heavy objects that are often used should not be stored too high or too low.

A few concrete ideas to adapt your home or interior:

•    For work, choose a suitable, adjustable swivel chair and a footrest.
•    Opt for chairs with armrests and straight backs.
•    Position electrical sockets at arm height.
•    Choose a very high bed base (blocks to raise the bed exist).
•    Install wall grab bars in showers, baths and toilets.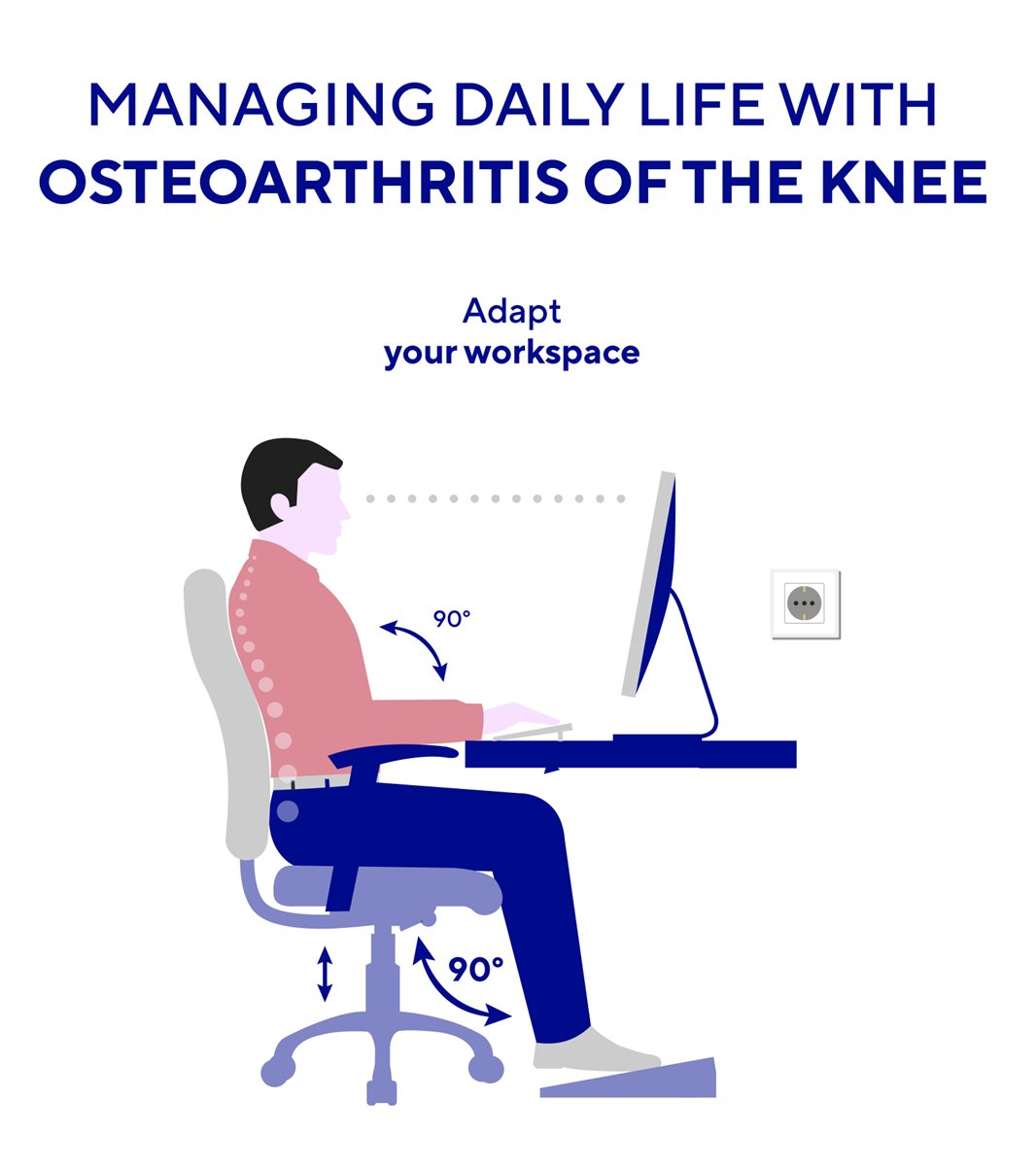 Use appropriate tools and aids
To take some of the weight off the body and be able to walk for longer, you can use a walking stick. It should be held on the side opposite the most painful knee. It is very important to choose the right stick: take advice from your pharmacist to decide on the ideal height and material.

There are also dedicated tools and aids for housework, painting a wall or cleaning windows, gardening or getting hold of objects that are out of reach. These enable you to carry out strenuous tasks with minimal movement and maintaining a good body posture. For example, you can use tools (squeegee, brush, broom, mop, tongs, etc.) with a long handle (telescopic or otherwise) and/or a carpenter's belt (to keep your tools handy).
 
One last tip to make your life easier and spare your joints: wheel things instead of lifting them! A shopping trolley, a caddie or a cart can be extremely useful for moving heavy loads such as shopping, furniture or plants.
If you have any questions, ask your doctor for advice.