Thuasne had launched four new products since the beginning of the year
Lombastab Range
Through its commitments and more than 40 years of expertise, Thuasne launched this year a new range of back braces from lumbar to thoraco-lumbar orthosis to accompany the patients in treatment of their back conditions in their daily life.
This new range brings innovation thanks to the integrated lacing system technology and the comfort it brings to the patients.
The new elegant design of the braces and the specific Combitex fabric used allow a pleasant wear all day long while insuring the proper adaptability to different morphologies.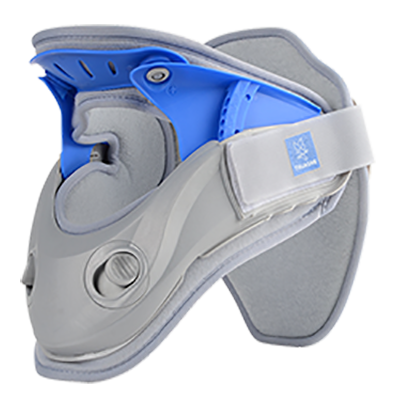 Ortel T-Neck
Thuasne has came with a new solution as a part of the cervical Orthosis range; Ortel T-Neck & Ortel T-Neck Plus indicated, among others, for stable vertebral fracture and moderate to severe cervical syndrome.
These new rigid collars bring an optimal comfort to the patient during the immobilization and stabilization phase of the cervical spine thanks to the lightweight, modern and sober design.
These collars provide a strong support. There is no need to look for the right size, they fit for all due to the one-hand adjustment system.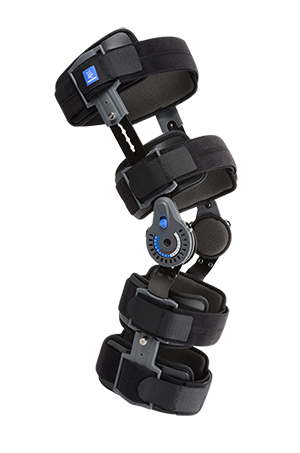 Rom-R: The post- Operative Knee Splint with a Tool-Less Adjustment System
Thuasne has been developing a full range of solutions for the knee pathologies and launched this year the latest post-operative knee brace that will allow the patient to gradually get back to movement.
The brace is designed for patients with severe ligaments injuries, or for post-operative treatments.
The new Rom-R offers more comfort thanks to the foam in contact with the skin. It also allows the patient to have an easy use all along the process due to a tool-less length adjustment system for a better proximal and distal fitting.
Venoflex Soft & Care
With people having difficulties donning and doffing compression stockings with a weakened skin, Thuasne has developped a new compression sock named Venoflex Soft & care.
This product is aimed for elderly people but also men and women with venous insufficiency.
Venoflex Soft & Care is made with viscose yarns that allows the sock to be breathable, soft and adapted to hot weather.
An external study, Techni'Sens has been conducted on this product and have proven the easiness of donning and doffing as well as the softness and the comfort.